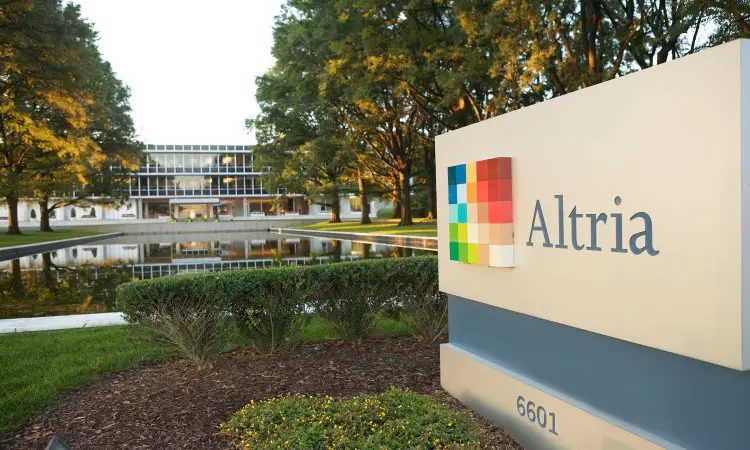 Altria will look to alternative products to help it offset losses in conventional cigarette sales that have caused it to revise its 2022 full-year forecast downward.
The US company said in its third quarter results that net revenues for smokable products decreased 1.5% in 2022, primarily caused by lower shipment volume (domestic cigarette shipment volume decreased 9% over the first nine months of the year) and higher promotional investments – though this was partially offset by higher pricing.
Results from the third quarter on its own were similar, with a 1.6% drop in revenue driven by a 9.2% decrease in domestic cigarette shipping volume.
This contributed to an overall net revenue drop of 3.5% to $6.6bn in the third quarter, while for the first nine months of the year, the company saw its revenue decrease by 3.9% to $19bn.
The Virginia-based tobacco manufacturer narrowed its full-year guidance and now expects to deliver adjusted diluted earnings per share (EPS) in the range of $4.81 to $4.89, representing a growth rate of 4.5% to 6% from a base of $4.61 in 2021. "We believe this range allows us the flexibility to react to marketplace conditions," said Altria CEO Billy Gifford.
The company's full-year adjusted diluted EPS guidance range includes investments to increase smoke-free product research, development and regulatory preparation expenses, and marketplace activities supporting its smoke-free products.
Altria expects its 2022 capital expenditures to be between $175m and $225m, a change from our previous expectation of $200m to $250m.
Juul separation seen as strength in smoke-free market
The company now believes its separation from Juul puts it in a good position to take advantage of the vaping market going forward and potentially offset losses from drops in conventional cigarette sales.
Altria said: "As previously disclosed, we exercised our option to be released from our Juul non-competition obligations on 29th September 2022, resulting in the permanent termination of our non-competition obligations to Juul, the loss of our Juul board designation rights (other than the right to appoint one independent director so long as our ownership continues to be at least 10%) … and certain other rights with respect to our investment in Juul and the conversion of our Juul shares to single vote common stock, significantly reducing our voting power."
The company said it is now looking at other options going forward to build a portfolio of vaping products that include products approved by the US Food and Drug Administration (FDA) while retaining its 35% stake in Juul.
"We are optimistic that our actions to date have strengthened our portfolio in the three major smoke-free categories," said Gifford. "We have built a compelling portfolio in heated tobacco, enhanced our ability to compete in e-vapour and continued to strengthen [nicotine pouch brand] On!'s position in the oral tobacco category."
Altria has also announced a new strategic partnership with Japan Tobacco Group (JT) in a move to expand its heated tobacco portfolio. This announcement follows a recent $2.7bn agreement between Altria and Philip Morris International (PMI) on the exclusive rights to sell Iqos heated tobacco products in the US.
Now Altria, which appeared to not want to end the PMI Iqos partnership, will have a new heated tobacco product to add to its stable.
"We believe heated tobacco products can appeal to smokers interested in innovative, inhalable products with real tobacco without the social friction associated with cigarettes," Altria said.
– Antonia Di Lorenzo ECigIntelligence staff