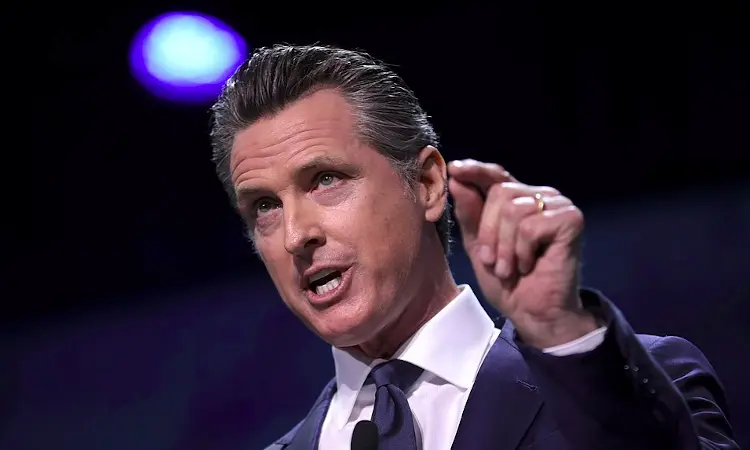 The sale of flavoured e-cigarettes will be illegal in California from January 2021 after the US state's governor Gavin Newsom signed legislation to ban them from the market.
After signing Senate Bill 793 into law, just hours after it passed through the Senate on a unanimous 34-0 vote, Newsom (pictured) called it "a victory for public health" in the state. The bill had passed through the state Assembly four days earlier by a vote of 58-1.
The newly signed law will prohibit retailers from selling tobacco products, including e-cigs and e-liquids, that have "a distinguishable taste or aroma, or both, other than the taste or aroma of tobacco, imparted by a tobacco product or any byproduct produced by the tobacco product".
The ban includes menthol, mint, and fruit flavours. Local jurisdictions will be allowed to impose tougher restrictions if they choose.
Anyone found to be breaking the law will face a fine of $250 for each violation.
Law 'will save lives'
In a news conference before signing the bill, Newsom said he had long supported the spirit of the new law.
"I have been very, very expressive in terms of my absolute condemnation of this tobacco industry, how it continues to find ways to target our youth," he said. "It will be a point of deep pride and personal privilege, as a father of four and as someone who has had many, many family members die at the hands of the tobacco industry, to sign that bill."
The law "will save lives," added senator Jerry Hill, who sponsored the bill having been a leading advocate of banning flavoured tobacco for years.
Before its passage, SB 793 was the target of a fierce lobbying battle by vaping advocates and industry groups who tried to halt its momentum.
The law was criticised by opponents for its exceptions for hookah, premium cigars, and pipe tobacco, and for its inclusion of a ban on menthol cigarettes, which are preferred by many African-American smokers.
Vapour users, retailers, and manufacturers have also feared the sweeping impact the ban will have on availability of vapour products, which they say could push users back to smoking traditional cigarettes.
Opponents of the bill filed a proposal yesterday (31st August) to the California secretary of state calling for a referendum to nullify the new regulations. If 623,212 registered Californian voters sign up to back a referendum, the law will be suspended until November 2022, when the issue will be decided in a public ballot.
What This Means: The sheer size of California's economy, the largest in the US, makes the new law significantly more impactful for the entire vapour market nationwide.
It is likely to lead to "significant annual revenue loss" for the state, in terms of lost tobacco excise taxes, according to a Senate analysis. A previous version of the bill, which included fewer exemptions, was estimated to lead to a $218m loss in state revenue in fiscal year 2021-2022.
However, California's Department of Public Health has said that "few data sources are available on consumer responses to banned flavored products, so consumer impacts are highly uncertain".
– Julian Hattem ECigIntelligence US correspondent
Photo: Gage Skidmore