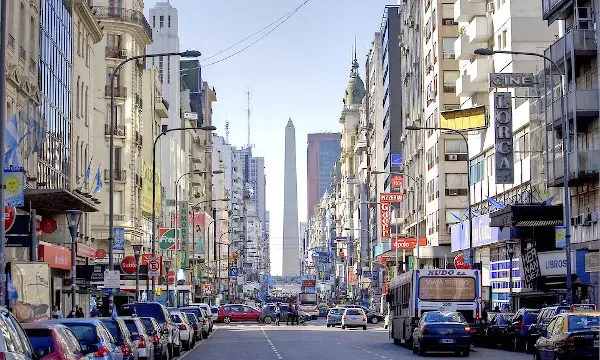 A bill to legalise and regulate the sale, marketing and consumption of e-cigarettes in Argentina has been put forward by a former government minister.
It was presented by Ricardo López Murphy, who served for just 15 days in 2001 as the country's minister of defence and economy and is now the only sitting member of the Chamber of Deputies for the liberal United Republicans Party (Republicanos Unidos).
López Murphy argued that the 2011 ban on the import, distribution, sales and advertising of vaping products was instituted "without the scientific evidence that supports the effectiveness of electronic cigarettes in quitting smoking and the benefits to human health".
"More than 12 years later, science has demonstrated that electronic nicotine delivery systems and alternatives are 95% less damaging to health than traditional cigarettes," he told fellow members of Argentina's lower house. "The myopic ban on sales of e-cigarettes has generated a market on the margins of the law that is not controlled by authorities, creating a clear health risk for users."
His bill seeks to regulate the sale, promotion and distribution of e-cigarettes, provide information on manufacturers, include detailed public information on participants in the market, such as sales volumes, and implement security and quality controls for available products. It also calls for e-cigarettes to contain less than 50 mg/ml of nicotine.
Vapers association supportive and optimistic
While the bill is still in its early stages, Juan Facundo Teme, president of the Argentinian section of the South American vapers association Asovape, said he considered it to be a strong initiative and was encouraged that López Murphy is an experienced congressman who carries significant legislative clout.
"The bill is not perfect, we think it can be improved, but we have a lot of hope that it will be well received in Congress," Facundo Teme said. "Our association as well as others and users are going to support the legislation and work to improve it to give it the best possible chance of approval."
However, much stands in the way of the bill, which is just the latest of many similar initiatives that have been proposed by both the ruling coalition and opposition parties. Some have enjoyed higher support than this one appears to have, but have still died or are effectively dead in the legislative process.
Nevertheless, this latest attempt to legalise e-cig sales is now even more significant in terms of alternatives to combustible cigarettes in Argentina since the surprise imposition two weeks ago of a national ban on heated tobacco products.
The decree issued by the Argentinian Ministry of Health came into force on 28th March, prohibiting the import, distribution, sale and promotion of all heated tobacco products. The order targets all "heated tobacco products", explained as "the systems or electronic devices intended to inhale tobacco vapours or aerosols" and applies to "all types of accessories intended for such devices such as cartridges and tobacco bars that can be heated".
National media confuse e-cigs and heated tobacco
Health minister Carla Vizzotti justified the ban on the grounds that tobacco use is a significant cause of loss of productivity due to sickness, disability and premature death. A follow-up government statement, issued on 27th March, added that "although these products [heated tobacco] promote themselves as less risky, to date no independent study has demonstrated that they are harmless to health".
The government announcement caused a good deal of confusion, particularly among national media outlets, which reported wrongly that the ban also applied to e-cigarettes, Facundo Teme said.
"Vapes suffered collateral damage because many national news outlets talked about a prohibition for electronic cigarettes, and not just about heated tobacco, which is what the ministerial order applies to," he said.
The sale and promotion of e-cigarettes has been prohibited in Argentina since a ruling by the National Administration of Drugs, Foods and Medical Devices (Anmat) in 2011. However, their use remains legal. "It's like saying that it's legal to play football, but the balls are illegal," Facundo Teme added.
– Adam Williams ECigIntelligence contributing writer
Photo: Herbert Brant