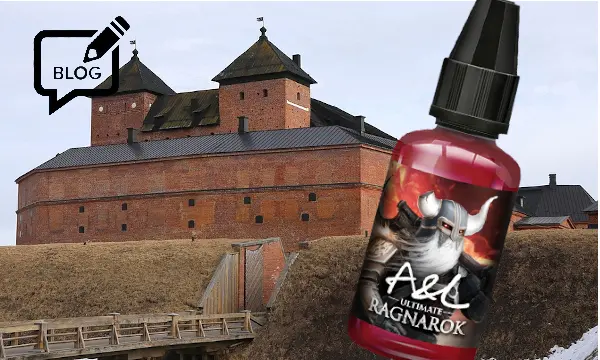 Would you flavour your food – your fairy-cake, say, or your soup – with drops of something called Ultimate Ragnarok out of a little bottle bearing a picture of a horned god wielding a battleaxe? Would it help to know that Ragnarök, in Norse mythology, was the great and disastrous battle in which the gods Odin, Thor, Freyr, Loki and others all died?
Or how about a bright blue drop of Ultimate Shiva – Shiva being, of course, The Destroyer in the Hindu pantheon?
And if you were perhaps minded to spice up your dinner party in this way, would you expect to stock up your kitchen cupboard with a visit to the local vape store?
These are among the questions, either spoken or implicit, that a regional court in Finland was asked to decide on this week. And the conclusion by the administrative court in the city of Hämeenlinna was that the local council had no right to prevent vape shops from selling these and other exciting flavours simply because they were vape shops.
The court ruled, reasonably enough you might think, that the place of sale did not determine the use to which a product was put. On the other hand, Ragnarök cakes anyone? A bright blue dash of Shiva on your chips?
Far be it from me to suggest any course of action to the Hämeenlinna planning committee or the Tampere foods inspector, but any appeal to Finland's Supreme Administrative Court might just suggest that while the lower court may have been true to the letter of the law, it may not quite have caught its spirit.
If the case is taken that high, it won't be first time the Supreme Court has been called on to adjudicate on a similar question. In 2020, it ruled that the national ban on flavoured e-liquids could not be applied because the final text of the Tobacco Act had not gone through the European Commission's notification process.
That escape route for flavour sales was rapidly closed. Which makes the present case of potential vital interest to vape stores, and vapers, all across Finland.
Food for thought
You might wonder why vape stores would be selling food flavourings (real or supposed) anyway. The reason for that is straightforward enough. DIY flavouring is a fairly transparent attempt to circumvent Finland's total ban on all e-cigarette flavours other than tobacco. They can see through that easily enough in Tampere and Hämeenlinna.
It should be noted that what is safe to swallow is not necessarily safe to inhale – see in particular the dangers of vaping vitamin E acetate as revealed tragically in the so-called Evali outbreak of 2019. Which might suggest that liquids, including flavours, that are designed for vaping are safer to vape than those intended for use in the kitchen. Whatever exciting names and designs decorate their labels.
This may be something Finland's legislators should have considered when drawing up some of Europe's most austere vaping regulations. Presumably they failed to anticipate the "food flavouring" loophole.
Perhaps the law of unintended consequences should be considered by other legislators around the world as they enrol in the great crusade against e-cig flavours. They might keep an interested eye, too, on the progress and ultimate outcome of the battle of Hämeenlinna.
(Full disclosure: while bottles of Ultimate Ragnarok and Shiva e-liquids, made in France by A&L, illustrate stories about the Hämeenlinna case in the Finnish press, they may or may not be on sale in the stores involved. On the other hand, the Puff store in the city does feature liquids such as The Black Circus, Epidemic Fuel – and the Fuel Judgemint – on its Facebook page. Case closed?)
– Aidan Semmens ECigIntelligence staff
Photo: Reijo Telaranta