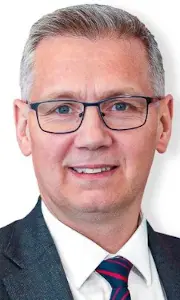 The UK government needs to clamp down on the increasing numbers of rogue retailers selling untested and illegal vaping products, both online and instore. That's the view of Robert Sidebottom, managing director of vaping law specialists Arcus Compliance, who says such practices are putting public health and the livelihood of reputable businesses at risk.
Sidebottom (pictured), who will chair the ENDS Europe conference in Amsterdam from 23rd to 24th May, told ECigIntelligence he and the UK Vaping Industry Association (UKVIA) have been canvassing the government, urging more proactive enforcement. Some of the measures he recommends include  introducing a licensing scheme and hitting non-compliant traders with increased fines.
"Rogue retailers are putting profit above safety, selling illegal and untested vaping products which are getting into the hands of children at accessible prices, and they need to be closed down," he said.
The Chartered Trading Standards Institute (CTSI) recently reported that local Trading Standards officers across the UK have been "overwhelmed by the volume of non-compliant vapes being sold by retailers".
It said: "Based on test purchasing, around one in three vape products may be non-compliant – this may include having the wrong health warning, the wrong tank size, a higher concentration of nicotine, containing CBD, incorrect labelling – or all of the above."
Clickbait headlines
According to Sidebottom, untested products could contain banned substances that put users' health at risk, and that will result in negative media coverage affecting the legal, regulated industry as well as the rogues.
Sidebottom believes the media is skewed towards attacking vaping in its search for clickbait-style headlines.
"Why is vaping always under the microscope when retailers are allowed to sell hundreds of flavours of gin in what could be argued to be youth-appealing packaging? It's because e-cigs are a new product and, historically, innovative products have always been attacked," he said.
He also referred to the 2019 outbreak in the US of what became known as Evali – e-cigarette, or vaping, product use associated lung injury – despite the discovery that linked it specifically with adulterated cannabis vapes. The often ill-informed publicity surrounding that episode continues occasionally to crop up in anti-vaping articles, and Sidebottom said: "We don't want a repeat of that."
He claims one of the reasons sales of illegal e-cigs are thriving is that there's a lot of demand from consumers who want a bigger device for a longer-lasting experience – ideally in the form of disposables.
"That's why disreputable firms have been selling disposable products claiming to offer 'up to 10,000 puffs'," he said. "Not only is this a myth because there's no measure on a puff, but disposable products are legally limited to containing 2 ml of e-liquid, which is not high capacity. We need to educate consumers and retailers about these false claims and what constitutes a regulated vape product."
The greatest deterrent
Sidebottom says untested products are getting into the UK because there are not enough Border Force officers to carry out effective customs controls. Then, once illegal products are on the market, the rogue retailers are being enabled by the lack of Trading Standards resources with which to police them.
Any non-compliant products found by regional Trading Standards departments have to be destroyed using regional budgets, which often won't cover such an expensive process. Sidebottom is calling for a national facility to undertake the task because some officers are looking the other way and, instead of taking meaningful action, going for the lowest hanging fruit because their resources are so limited.
"I've reported some rogue websites myself which are still trading," he said. "If they're getting away with it, where's the motivation for other retailers to be compliant? The greatest deterrent to breaking the law is a high probability of being caught."
The UK government recently announced a crackdown led by a new "illicit vapes enforcement squad", backed by £3m of government funding. Led by Trading Standards, the "squad" will work across the UK, tasked with sharing knowledge and intelligence across regional networks and local authorities.
Projects will include test purchasing in convenience stores and vape shops, along with producing guidance to help build regulatory compliance. The "squad" will also have the power to remove illegal products from shops and at UK borders.
Political gesture
However, Sidebottom claims that while welcome, this is merely "a political gesture to placate people" and the industry could spend as much on a marketing campaign that will reach only a very small percentage of the population.
"We have to close the door on untested and illegal products coming into the UK and we've got to ensure that any retailers who sell them are appropriately fined," he said. "We should be licensing retailers to sell vape products and if they're found to sell any age-restricted products to young people they should lose their licences."
The UK government has also called for evidence to identify opportunities to reduce the number of children accessing and using vapes, while ensuring they remain available as a quit aid for adult smokers. Sidebottom has urged industry stakeholders to participate in the government's open consultation, which is set to close on 6th June.
"It's very important that any industry stakeholders get their opinion across. While no vape product should be sold to children, there is clearly an increased health risk for young people accessing illegal, untested vape products, and we don't want knee-jerk reactions from the authorities, such as banning flavours, and introducing plain packaging," he said.
Robert Sidebottom will chair a panel discussing vaping versus other age-restricted products at

ENDS Europe

next week. Topics up for discussion will include enforcement, marketing and compliance.
– Lorraine Mullaney ECigIntelligence staff