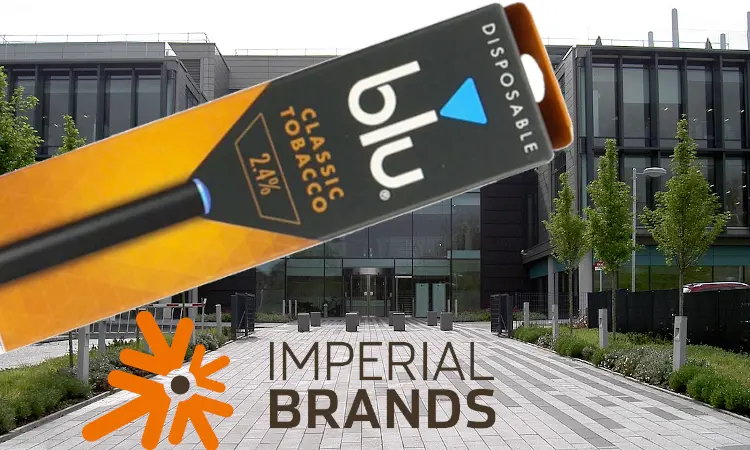 Tobacco giant Imperial Brands today registered a dip in revenues from its next generation products (NGP) portfolio in 2021 but said it looks forward to expanding its product trials in new countries and consolidating its European and American markets.
Globally, the British-based multinational posted £32.79bn in revenues for the year ended 30th September, a slight increase of 0.7% in comparison with the same period of 2020.
But net revenue for its smoke-free portfolio fell by 3.9% due to the company's exit from a number of markets and it having "refocused the category in line with the revised strategy".
In the Asia, Africa and Australasia region net revenue for the category fell by 78.3%, reflecting the company's decision to exit the vapour market in Russia and Japan.
The company announced in January a change of strategy towards its vapour segment, with more focused investment in its Blu e-cigarette brand in its two biggest markets, Europe and the US.
In Europe, revenues in Imperial's NGP category were up 28.8% this year, with sales growth across several markets including Germany, the UK and Spain.
Blu's share in key markets such as the UK, France and Italy remained stable, according to the figures the company shared with investors today.
In the US, NGP revenues were down 15.5% on a constant currency basis.
Last month company launched a pilot in the city of Charlotte, North Carolina, to test a new consumer marketing proposition for Blu. However, it warned that uncertainty over the outcome of its premarket tobacco product application (PMTA) was creating a lack of clarity for its vapour category development in the US.
What This Means: Despite the dip in its overall NGP revenues, Imperial has high expectations for 2022 and believes it remains on track to deliver the five-year plan it laid out in January.
– David Palacios and Antonia di Lorenzo ECigIntelligence staff