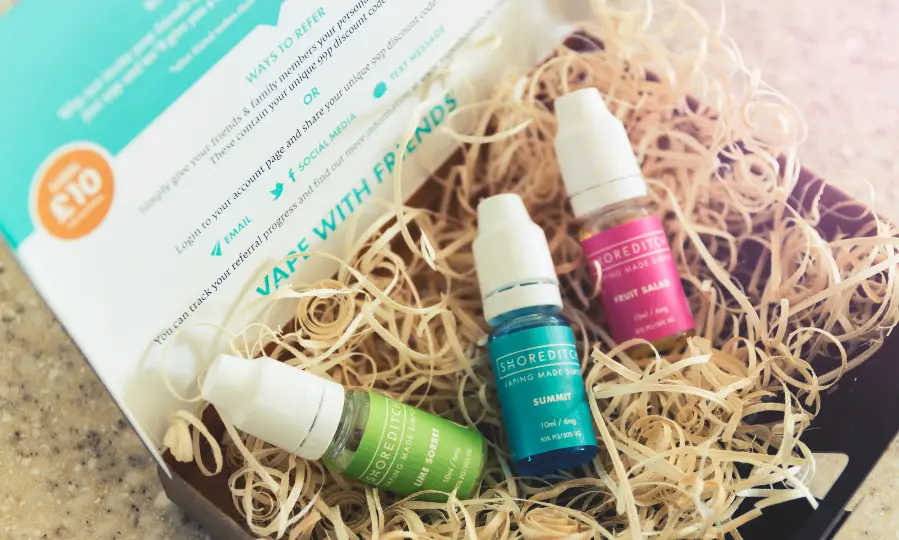 A London-based e-cigarette startup has received £235,000 ($340,000, €300,000) from angel investors which will help it expand from online to offline sales while maintaining its current subscription model.
Vape Shoreditch is a year-old firm that sells e-liquids through subscription, delivering them to customers by post. It plans to use some of the funds raised to explore new methods of retail distribution, according to co-founder and director Ryan Shaw.
Currently, users register on Vape Shoreditch's Website and choose from a range of e-liquids in various flavours and strengths. Their order is then repeated each month unless they pause, cancel or modify it.
Vape Shoreditch, which also sells hardware, uses technology to ensure purchases are restricted to over-18s. This includes checks with the information company Experian, which compares customer details against public databases such as voter registration lists. If a user's identity isn't verified, they may have to show ID to purchase, Shaw said.
This "unique" model in the UK e-cigarette market has proved successful over the past year and now Vape Shoreditch wants to expand into other retail channels to diversify its sources of income. It's already moved into offline retail with its first branded mall kiosk in the Eden Shopping Centre, in the town of High Wycombe near London.
"We're looking for different kiosks in high-footfall, high-demographic sites across the UK as part of our move into offline retail distribution," Shaw said. Beyond this, the company is looking at selling through general retail outlets such as convenience stores.
Shoreditch currently only sells second-generation (eGo-style) hardware and 50/50 PG/VG (propylene glycol/vegetable glycerin) e-liquids in three nicotine strengths. By limiting the number of hardware and e-liquid options, the company hopes to offer new vapers a simple, easily understood choice.
"New vapers are coming from smoking, where you have two components – a cigarette and a lighter – and a very easy process," said Shaw.
If the model continues to prove successful, the company hopes to embark on a second, larger round of funding later in the year – potentially through an equity crowd-funding site such as Seedrs.
What This Means: Shoreditch provides an interesting subscription business model that has proved successful in a variety of other FMCG (fast-moving consumer good) categories such as coffee, beer, wine, whisky, snacks and cured meats. Angel investors are obviously enthused and the company does seem to be developing rapidly.
However, it should be careful to ensure that the move into convenience stores doesn't undermine its positioning and reputation.
– Freddie Dawson ECigIntelligence staff