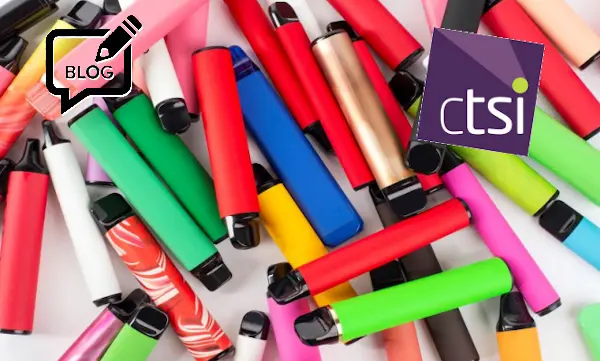 So as the rest of the world (well, quite a lot of the world – see any day's ECigIntelligence alerts) sucks its teeth and rubs its chin over whether to make e-cigarettes prescription-only, flavour-free, or to ban them entirely, the UK waves the vape-friendly flag again by offering smokers free vouchers for vaping products.
Details of the so-called "swap-to-stop" scheme are still a little hazy, but it has already been described by the CEO of anti-smoking charity Action on Smoking and Health (Ash) as "welcome steps in the right direction". And applauded by the World Vapers' Alliance as strengthening "the UK's position as one of the tobacco harm reduction champions worldwide".
So does this mean all is hunky-dory in the British vaping world? Not if you see it from the perspective of the Chartered Trading Standards Institute (CTSI), which says local Trading Standards officers across the country are "overwhelmed by the volume of non-compliant vapes being sold by retailers". Sticking with the nautical metaphor, it talks of a "tidal wave" of those bad vapes, which have been "flooding the UK market".
Before we drown in the watery language, let's bring in some figures we can cling to. It doesn't get any less scary when we do.
'No definitive health risk'
According to a CTSI statement on the issue: "Based on test purchasing, around one in three vape products may be non-compliant – this may include having the wrong health warning, the wrong tank size, a higher concentration of nicotine, containing CBD, incorrect labelling – or all of the above."
When you consider just how ubiquitous e-cigs have become in the UK, one in three is a lot of vaping stuff. In fact, again according to the CTSI, "1.4 tonnes of illegal vapes [were] seized in the last six months of 2022 in the North East of England alone". Or, looking at it another way: "Better Retailing reports that sales of disposable vapes are over 138m per annum…That's more than 45m non-compliant products being sold every year."
And further: "Intelligence-led test purchasing finds that around one in three shops sell vapes to those knowingly under the age of sale."
As in the recent case of Elf Bar's recall of disposables with over-size tanks, the CTSI acknowledges that non-compliant vapes carry "no definitive health risk" – but that word "definitive" carries a lot of weight there. The statement goes on: "The MHRA [Medicines and Healthcare Products Regulatory Agency] strongly advises consumers not to use them as the true content is unknown, along with any possible health risks."
As you might expect, one of the CTSI's pleas in the wake of all this is for "more boots on the ground" – more Trading Standards officers out there. But it is also calling for:
Clearer direction from the government

A wider review of regulations to make sure they keep up with product development and the market

An exploration of ways to reduce the "youth appeal" of vaping

Possible restrictions on product placement, both figuratively on social media and literally in shops (e.g. not next to the sweets)

Tougher sanctions for producers, suppliers and retailers who deal in non-compliant products.
Finally, it says the cost of Trading Standards' efforts in seizing and disposing of dodgy vapes should be paid by the importers, distributors and suppliers, not local authorities.
Lifestyle accessory
Meanwhile, The Guardian reports that, among other illegal properties, "some high street vapes claiming to be nicotine-free actually contain the same level of addictive substances as full-strength e-cigarettes".
While the CTSI notes "growing concerns from the public about the appeal of vapes as a lifestyle accessory for young people rather than what they were originally developed for, which was as a highly effective aid for smokers to quit".
All of which makes vape-friendly Britain sound more like a Wild West of e-cig lawlessness than a paragon of good sense showing the world how it should be done. The truth, as ever, no doubt lies somewhere between those extremes. Exactly where between remains somewhat hard to discern.
Perhaps some light will be shed by the results of the UK government's open consultation calling for evidence on youth vaping, announced last week and open until 6th June.
– Aidan Semmens ECigIntelligence staff