Description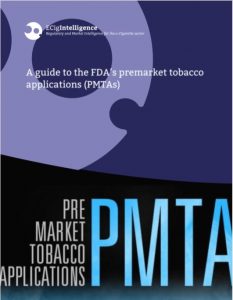 The FDA has now issued its proposed rule for pre-market tobacco product applications (PMTA), with detailed advice and guidance on this demanding and rigorous process for applicants preparing to submit their applications. This report provides a concise overview of the proposed rule as well as how the applications are assessed.
Published: 25th November 2019; No. pages: 20
ECigIntelligence does not provide legal, strategic or investment advice. Tamarind Media Limited, the publisher of ECigIntelligence, does not accept any liability or responsibility for information or views published.
Please see this page for a detailed description of our methodology.