ECigIntelligence Flavour & Nicotine Dashboards
Conveniently navigate our interactive and user-friendly visualisations to gain an advantageous perspective on flavours and nicotine strengths offered by leading brands and top websites in seven major e-cigarette markets – the US, UK, Russia, Germany, France, Italy, and Canada.
These databases are indispensable tools, providing actionable insights to professionals operating within the various parts of the e-cigarette sector. Whether you are a manufacturer, distributor, investor or seeking the best way to develop your brand, these trackers will enable you to plan your strategy with confidence.
Our data collection and in-house comparative analysis will allow you to augment your knowledge of the most significant flavour profiles, categories and nicotine formats for the regions mentioned.
You can trial the interactive flavour tracker here.
Contents 
What you can find in the flavour tracker
What you can find in the nicotine strength tracker
Methodology
Flavour tracker
Nicotine strength tracker
*If you choose to subscribe to ECigIntelligence within 30 days of purchasing one of our premium data bundles, we will credit the price of the purchased bundle to your first year's subscription.
For who
Manufacturers
Product developers
Suppliers
Data analysts
Distributors
Sales and business development teams
Investors
Industry professionals
What you get
XLS Databases:
– 14 excel files (two per country)
– Cleaned and categorised raw data for the current quarter
Interactive Dashboard: 1 login access for 3 months
– 14 interactive dashboards (two per country)
– Current quarter available + 1 quarter update + historic data
Reasons to buy
The fourteen dashboards enable you to visualise the evolution of the analysed product categories across quarters and years. Cleaned and categorised raw data for the current quarter will enable you to conduct tour own benchmarking at the level of individual brands and products.
This product also enables you to:
Understand product evolution and trends
Supply analysis to gain insight into consumer preferences
Compare products available in seven major e-cigarette markets
Find opportunities to enhance your business
Analysis per quarter from Q4 2017
Includes both freebase and nicotine salts
Have a clear view of the flavours and nicotine strengths with increasing demand
Know the split for the top 20 brands in each country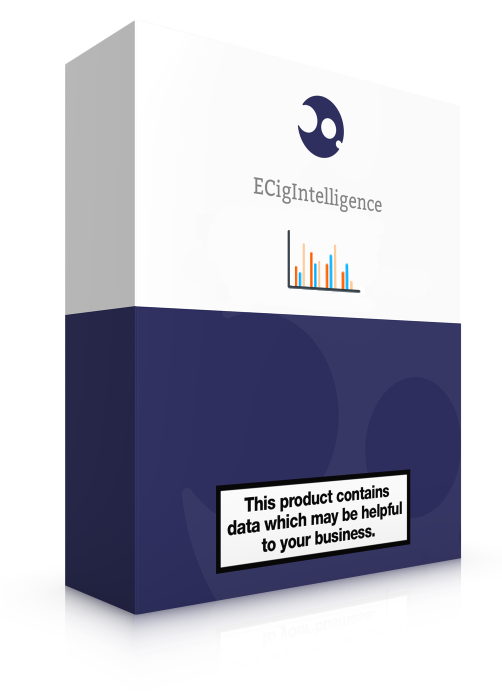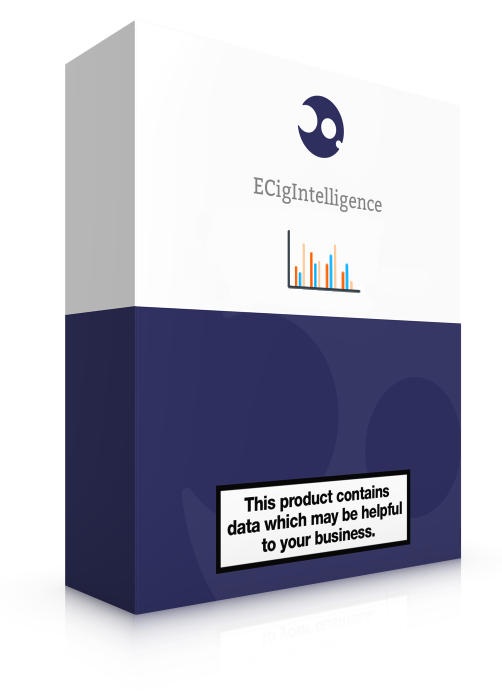 Data details
Details of the data and in-house analysis included in this database are:
ECigIntelligence Flavour/Nicotine Database:

Flavour
Nicotine Strength
Update rate
Quarterly: data gathered in middle of quarter (range of dates depending on market)
Archive analysis period
2yrs+, quarterly from Q4 2017
Markets covered
US, Canada, UK, France, Germany, Italy, Russia
Retail channels
Five leading online multi-brand retailers representing est. 25-50% of total online sales in each market
Data-points analysed
>250,000
Cleaned raw data available each quarter
30,000+
100,000+
Categories analysed
9 main flavour categories (including tobacco and
menthol/cooling) and 47 flavour sub-categories
14 nicotine strength categories in nicotine salts and freebase nicotine liquids, including pre-filled pods
Key analysis outputs
Flavour category splits; flavour development over 2+yr period; cross-market flavour profile comparisons; tobacco/menthol market share (supply side) including impact of flavour restrictions; new flavour categories launched in latest quarter
Nicotine strength splits; longitudinal change in nic. strength (esp. following introduction of nic salts); cross-market comparisons particularly US vs EU (nic. strength limits)
Data splits
Nicotine type (freebase and nicotine salts); product (open system e-liquid, closed system pod); country market; indexed by prevalence with online retailers
Flavour trackers
Nicotine strength trackers
ECigIntelligence Flavour & Nicotine Dashboards
Price : $3,995.00