ECigIntelligence Global Market Database
This is a one-stop source for essential information on the global vaping market, including ECigIntelligence's latest detailed analysis of over 45 countries with significant e-cigarette markets. Find market size estimates; smoking rates; vaping statistics; form factors; online and offline pricing; distribution channels; brands and chains, key contacts and more integrated into one easy-to-use Excel document.
Capture essential market information in one place and get a truly global perspective with this valuable time-saving resource. The information provided includes:
Market size for over 45 markets globally including North America (US, Canada, Mexico), Europe (UK, France, Germany, Italy, Spain, Poland, etc), Asia (China, Japan, Philippines, Malaysia, Australia, New Zealand, etc) and Latin America (Brazil, Argentina, Colombia, Chile, etc).
Growth rates and market size estimates to 2023 – vaping population and segmentation, including smoking rates and vaping statistics.
Form factors split between key open and closed system product categories, including online pricing.
Distribution channel splits and leading retailers.
All information can be filtered by country and region.
*If you choose to subscribe to ECigIntelligence within 30 days of purchasing one of our premium data bundles, we will credit the price of the purchased bundle to your first year's subscription.
ECigIntelligence does not provide legal, strategic or investment advice. Tamarind Media Limited, the publisher of ECigIntelligence, does not accept any liability or responsibility for information or views published.
Please see this page for a detailed description of our methodology.
For who
Manufacturers
Financial institutions
Suppliers
Data analysts
Distributors
Sales and business development teams
Investors
Industry professionals
What you get
XLS Database
1 excel file included
Reasons to buy
This product enables you to:
Understand market evolution and trends
Identify key players and market dynamics
Compare data and statistics across all countries
Access current market size estimates and forecasts for the next five years
Compare prices of product categories across countries
Gain knowledge of sales channels and market split
*This is a sample representation of the file layout and does not reflect the research included in this bundle.

*This is a sample representation of the file layout and does not reflect the research included in this bundle.

*This is a sample representation of the file layout and does not reflect the research included in this bundle.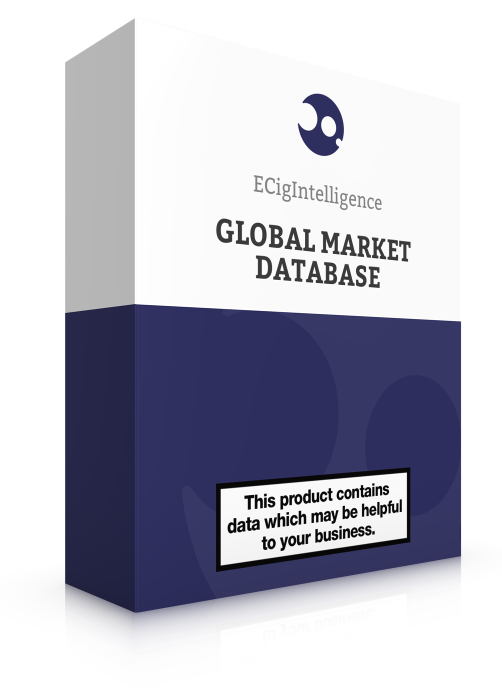 Table of contents
Dashboard
E-cigs ratios
Market size estimates
Vaping and Smoking statistics
Form factors
Pricing open system devices
Pricing e-liquid
Pricing clearomisers
Pricing closed system cigalike devices
Pricing pre-filled pods
Distribution
Top online retailers
Associations
Sources, methodology and product information
All information for all countries studied to date,
filterable by country and region
ECigIntelligence Global Market Database
Price : 6,950.00$
Start your FREE trial
Sign up to access our business and regulatory briefings and get the most updated news, insights and our expert analysis to keep you on top of worldwide industry trends.
By signing up you agree to our Terms and Conditions Please note trial access may take up to 24 hours to be granted as access must be qualified by a member of the ECigIntelligence team.