Global market database
This database provides a detailed analysis of key vaping markets in more than 57 countries in seven regions of the world.
You can filter to view dashboards of each country and make quick comparisons of country-specific data including:
Market size estimates
Product category value
Vaping population
Retail channels
Form factors
Pricing ratios
Open- and closed-system pricing
E-liquid pricing
Data includes market size estimates, smoking rates, vaping statistics, form factors (basic open systems, advanced open systems, pre-filled pods and disposables), online and offline pricing, distribution channels, brands and chains, and key contacts. As of February 2020, we provide the market forecast up to 2025, total and daily vaping population estimates, the most popular e-liquid brands, top brands, per country and historical data from 2016 onwards for vaping statistics, form factor split and distribution channel split.
You can also find market size distribution and a split between consumables, e-liquid and pre-filled pods, as well as hardware, basic open system, advanced open system, pre-filled pod kits, disposables and replacement coils. The retail channel analysis offers a split between online retailers, physical vape stores and other bricks-and-mortar. E-liquid pricing for TPD countries include average price per ml cheapest 10 ml freebase e-liquid, 10 ml nicotine salt, 50 ml e-liquid in 60 ml shortfill, 20 ml aroma in 60 ml longfill and 10 ml nicotine booster.
The following countries are included: Argentina, Australia, Austria, Belarus, Belgium, Brazil, Bulgaria, Canada, Chile, China, Colombia, Costa Rica, Czech Republic, Denmark, Estonia, Finland, France, Germany, Greece, Hungary, India, Indonesia, Ireland, Israel, Italy, Japan, Kazakhstan, Kyrgyzstan, Latvia, Lithuania, Malaysia, Mexico, Netherlands, New Zealand, Norway, Pakistan, Paraguay, Peru, Philippines, Poland, Portugal, Romania, Russia, Saudi Arabia, Serbia, Slovakia, Slovenia, South Africa, South Korea, Spain, Sweden, Switzerland, Ukraine, UAE, UK, USA and Venezuela.
Platinum subscribers to ECigIntelligence have access to regular updates of this product through their subscriptions.
*The product is up-to-date as of the date of publication. You will receive the purchased database directly in your inbox within 24 hours.
*If you choose to subscribe to ECigIntelligence within 30 days of purchasing one of our premium datasets, we will credit the price of the purchased product to your first year's subscription.
For who
Manufacturers
Financial institutions
Suppliers
Data analysts
Distributors
Sales and business development teams
Investors
Industry professionals
What you get
XLS Database
1 excel file included
Reasons to buy
This product enables you to:
Understand market evolution and trends
Identify key players and market dynamics
Compare data and statistics across all countries
Access current market size estimates and forecasts for the next five years
Compare prices of product categories across countries
Gain knowledge of sales channels and market split
*This is a sample representation of the file layout and does not reflect the research included in this bundle.

*This is a sample representation of the file layout and does not reflect the research included in this bundle.

*This is a sample representation of the file layout and does not reflect the research included in this bundle.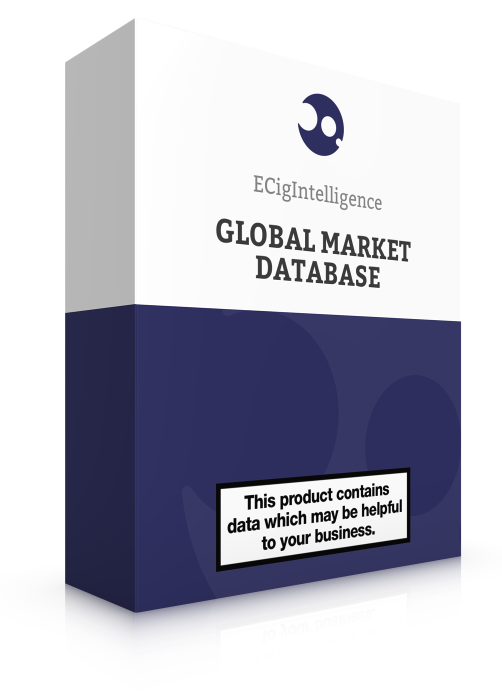 Table of contents
Dashboard
Market size estimates
Product category value
Vaping population
Retail channels
Form factors
Pricing ratios
Open system pricing
E-liquid pricing
Closed system pricing
Sources, methodology and information
All information for all countries studied to date, filterable by country and region
Global market database
Price : $3,995.00