Description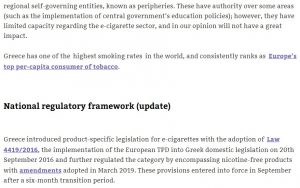 The ECigIntelligence Greece market and regulatory guide contains a report and a market snapshot, combining information on market size, brand overview, form factors, retail distribution split, with an in-depth look at just what the country's laws mean in real terms for the vaping industry. With new restrictions in the pipeline, this bundle is invaluable for your business.
Publication date: 17th Sep-14 Oct 2019 ; Total number of pages: 22
Photo: Orlando Brooke
ECigIntelligence does not provide legal, strategic or investment advice. Tamarind Media Limited, the publisher of ECigIntelligence, does not accept any liability or responsibility for information or views published.
Please see this page for a detailed description of our methodology. Please Contact us for a detailed description of our methodology.