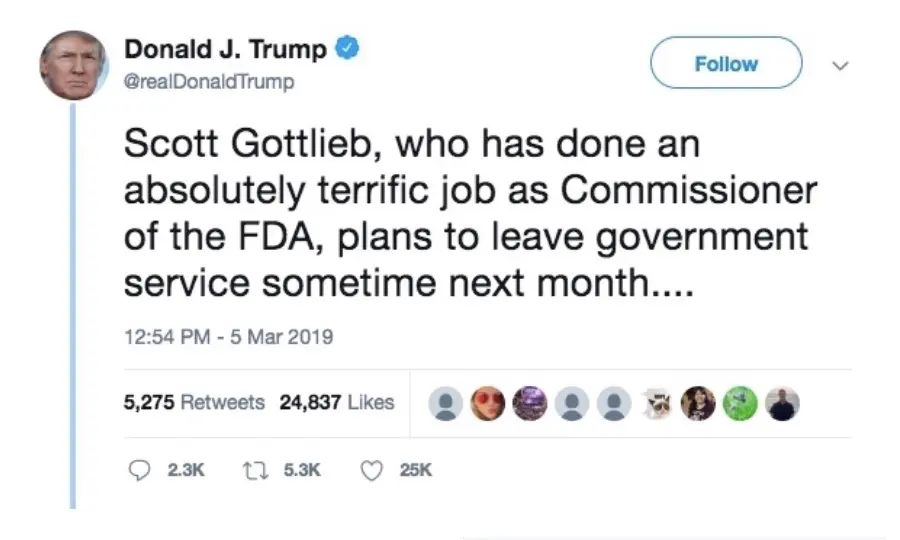 Scott Gottlieb, commissioner of the US Food and Drug Administration (FDA) and vocal critic of e-cigarettes, has resigned.
On Twitter he said that leading the FDA had "been a wonderful journey and parting is very hard". He will leave in about a month to spend more time with his family, he said in an interview reported by The Washington Post.
Both president Trump and secretary of health and human services Alex Azar paid tribute to Gottlieb's leadership of the FDA on social media.
Gottlieb, 46, has led the FDA since 2017. A medical doctor by training, he had previously worked for the agency in lesser roles as well as holding positions in academia and venture capital.
At the FDA he has been an active leader in a number of areas, developing the agency's response to opioid abuse and introducing measures to streamline the process for drug approvals.
But he has also become an outspoken opponent of vaping, particularly in recent months, characterising the use of e-cigs by youth as an "epidemic" and "tragedy".
Although the agency has remained nominally committed to the concept of a continuum of risk in nicotine products, Gottlieb has seemed to pay increasingly token lip service to e-cigs' potential for adult smoking cessation.
Among other measures, he has threatened to heavily restrict the sale of flavoured e-cigarettes, a proposal which is understood to be currently under examination by the White House's Office of Management and Budget (OMB).
He has also directly questioned the actions of major players in the sector such as Altria and Juul Labs, and stepped up action against retailers who sell to minors.
Gottlieb has also guided policy in other tobacco-related areas, albeit with less vehemence than in the vaping field. One of his first actions as commissioner was to identify nicotine itself as a key element in the FDA's tobacco-control strategy, and in 2018 that led to an advance notice of proposed rulemaking (ANPRM) – a first step toward possibly mandating a dramatic reduction in cigarette nicotine levels.
More recently Gottlieb has also pushed nicotine replacement therapy (NRT) forward on the agenda, suggesting that new forms of NRT could be developed, possibly including medically licensed e-cigarettes.
No successor has yet been named. Gottlieb's most senior deputy is principal deputy commissioner Amy Abernethy, who only joined the FDA last month.
– ECigIntelligence staff