E-cig retailers in the Greek capital Athens remain positive despite smaller stores struggling, with continuing growth giving some grounds for encouragement.
Although Greece is one of the Eurozone nations worst affected by the economic crisis of recent years, conditions suggest there is room for significant growth in the electronic cigarette market, as discussed in our new in-depth report on the country.
Some fear, however, that smaller bricks-and-mortar operations could be out of time.
The crisis has been negative for some stores but positive for others, depending on their size. A manager at one of the largest e-cigarette retailers in Greece told ECigIntelligence they were "positively affected by the crisis, as many small retailers had to terminate their operation, finding it impossible to compete in such a pressing environment".
There was growth in the Greek e-cig market in late 2015 and the consensus in Athens is that the market into 2016 will continue to grow; most vape stores in the capital are enthusiastic about their prospects, despite seeing competitors fail.
Some of the effects of the economic crisis on the Greek e-cigarette market include:
The search for more affordable alternatives to traditional cigarettes has pushed some consumers into the e-cig category.
While there is a significant and growing variable voltage/variable wattage user population in Greece, its growth has been dampened by the crisis. Many users have opted not to upgrade to more advanced devices, instead continuing with eGo-style open system tank kits. Use of closed-system cigalikes is rare.
In terms of e-liquid consumption, in order to save money many consumers prefer to procure one liquid at a time (typically tobacco flavour), which they finish, rather than buying many different flavours and potentially wasting some of them.
Tobacco regulation is also a factor influencing vaping uptake. Of all countries studied to date by ECigIntelligence's in-depth reports, Greece has by far the highest smoking prevalence at roughly 41% of the adult population, according to World Health Organization (WHO) figures.
Lax enforcement of the indoor smoking ban in Greece is highly significant for the vaping market, weakening what would usually be a relatively strong factor pushing consumers toward e-cigarette use. Stronger enforcement of this legislation would likely mean more people moving to vaping, as long as the number of individual establishments that prohibit e-cigarettes does not grow  – another factor that may be holding back adoption of e-cigarettes at the moment.
E-cigarettes are available in many outlets in Athens, including kiosks and traditional stores. Indeed, on ECigIntelligence's store visits a box mod was even found in a toy store.
Unsurprisingly, however, most sales come through specialist vape stores, thanks to the presence of more informed sales staff and a wider product selection than in other outlets. Many customers, once comfortable with the category, move to buying online.
The graphic below shows pricing through vape shops and other, non-specialist bricks-and-mortar stores in Athens, alongside prices found online earlier this year. The widest spread in prices is for clearomisers, where average prices online were 62% of the average prices found in non-specialist stores in Athens.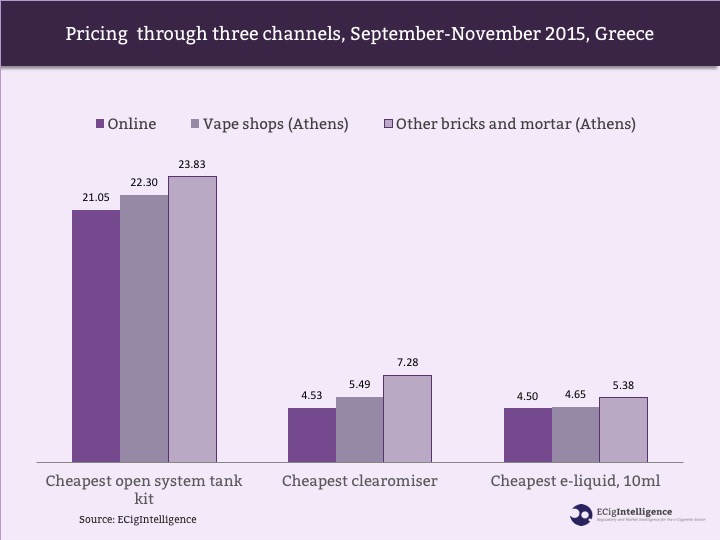 Many other graphics exploring the Greek market are also available with the new ECigIntelligence report, along with detailed data in a spreadsheet.
– Daniel Irwin-Brown ECigIntelligence staff
Photo: marcovarro/Dollarphoto.com