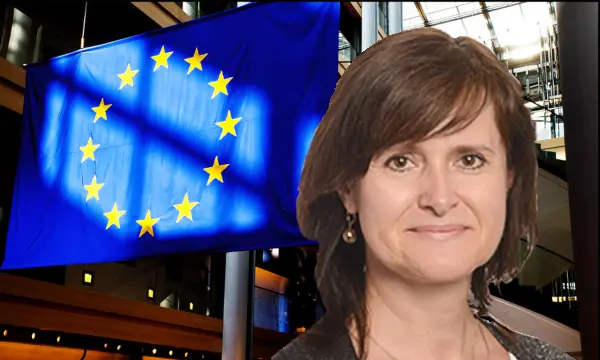 The upcoming revision of the EU Tobacco Products Directive (TPD) is likely to be driven by a mostly conservative approach, extending the regulations already in place for cigarettes and other traditional tobacco products to alternatives. While the views of members of the European Parliament (MEPs) differ even within parties, the debate seems to be heading towards the adoption of stricter regulations.
According to the Czech MEP Radka Maxová, a member of the Progressive Alliance of Socialists and Democrats (S&D), although it is impossible to predict the final outcome of the debate, the revision process will be heavily influenced by the conservative trends expressed during the debate over the European Beating Cancer (BECA) Plan.
"The trend in EU legislation is clear: abolitionism," Maxová (pictured) told ECigIntelligence. "The Beating Cancer Plan clearly shows this, and I expect the strict regulation will be extended to alternative products such as e-cigarettes and heated tobacco products, but it is impossible for me to say what the final regulation will look like."
Maxová, who was elected to the European Parliament in 2019, said she believed the same approach would be adopted in the revision of the Tobacco Excise Directive (TED).
But though many of her S&D colleagues are likely to vote in favour of stricter regulations of alternatives to smoking, such as e-cigarettes, Maxová herself believes lower-risk products should be treated differently than traditional tobacco as they play a significant role in harm reduction.
The trend towards tougher law
"Smoking can't be defeated by bans," she said. "E-cigarettes do have some risks, but the reduction in diseases and related deaths is still significant."
She said while consumers should be informed about the risks related to e-cigarettes, vaping was a less harmful alternative to smoking – and that this view was shared by many, although not all, of her fellow S&D MEPs.
"When I discuss this issue with my colleagues, many have the same opinion as me – alternatives such as e-cigarettes or vaping offer regular smokers many benefits in terms of harm reduction," she said. "There are, of course, colleagues who have a different opinion."
Maxová said the main position within her political group was supportive of strict regulations aimed at cutting smoking rates.
"As far as I know, the current trend in my group is that the EU needs a tough law which cuts the number of new smokers and encourages smokers to quit," she said, adding that she could not speak for all her colleagues. "Based on this approach, ways to achieve that include strict controls on cigarette packaging and a ban on cigarette flavours like menthol because it should make cigarettes less appealing to young people."
Research 'doesn't support flavour ban'
Maxová thinks heated tobacco should also be treated differently than cigarettes as a less dangerous alternative. "In my opinion, we should aim at providing more options for smokers who wish to quit smoking and the regulation should correspond to this aim," she said. "Several expert studies have shown that heated tobacco products are associated with lower exposure to a range of carcinogens compared to conventional cigarettes."
Maxová, a substitute member of the European Parliament Committee on the Environment, Public Health and Food Safety, does not support the flavour ban on heated tobacco products (HTPs) introduced in a European Commission (EC) Delegated Directive last November.
Member states must transpose the directive into national legislation before 23rd July, despite the opposition to it which was formally expressed by four of them – Bulgaria, Cyprus, Greece and Italy – and an appeal by tobacco companies against the ban currently being processed by the Court of Justice of the European Union (CJEU).
According to Maxová the need for a ban on flavoured heat-not-burn (HnB) products is not supported by research.
"The main aim of the flavour ban was to deter young people from taking up smoking," she said. "However, the data do not support this concern. Use of HTPs is concentrated among those who smoke or who used to smoke. Indeed, official EU data shows that the percentage of never-smokers that use HTPs is zero.
Black market fear
"The flavour ban makes it difficult for regular smokers to have access to safer and healthier alternatives. Limiting or banning the flavours of nicotine substitutes is not the right way to go.
"On the contrary, alternatives must be more attractive than 'classical' cigarettes, otherwise it makes no sense in view of the goal of reducing the health hazards of smoking."
Bans, Maxová continued, may even fuel the black market and lead to a further proliferation of unsafe products.
"History shows us again and again that the abolitionist approach does not work," she said. "In this case, it might even lead to the creation of more space for organised crime and the black market and therefore offer the possibility of producing addictive substances of uncontrolled quality."
When it comes to snus and nicotine pouches, Maxová thinks these too should be accessible.
"In my experience, tough regulation does not bring results," she said. "The overall focus should be not to prohibit or overly regulate alternatives, but rather push consumers to use less harmful products."
Awareness-raising 'works better than regulation'
However, she said consumers need to be aware of the health risks they still face while using them. "We must not forget about education and raising awareness," she said. "While some people switched to snus to quit smoking and thereby avoid the diseases connected to it, they were not aware of the diseases connected to snus."
In general, Maxová said, awareness-raising and support for smokers who wish to quit would work better than any stricter tobacco regulation which may be enforced in the EU.
"To put it simply, a world without drugs is not realistic and we should focus more on harm reduction," she said. "In order to reduce smoking rates in Europe, we need to scale up prevention and raising awareness campaigns and ensure a network of high-quality and accessible addiction services."
In this sense, alternatives to traditional tobacco are crucial for the outcome of harm reduction policies.
"So far a strategy that focused only on smoking abstinence has been supported, which has not led to a sufficient reduction in the number of smokers," Maxová said. "There is a need to improve conditions for the use of alternative products that do not burn tobacco as another possible way to solve this problem."
– Tiziana Cauli ECigIntelligence staff