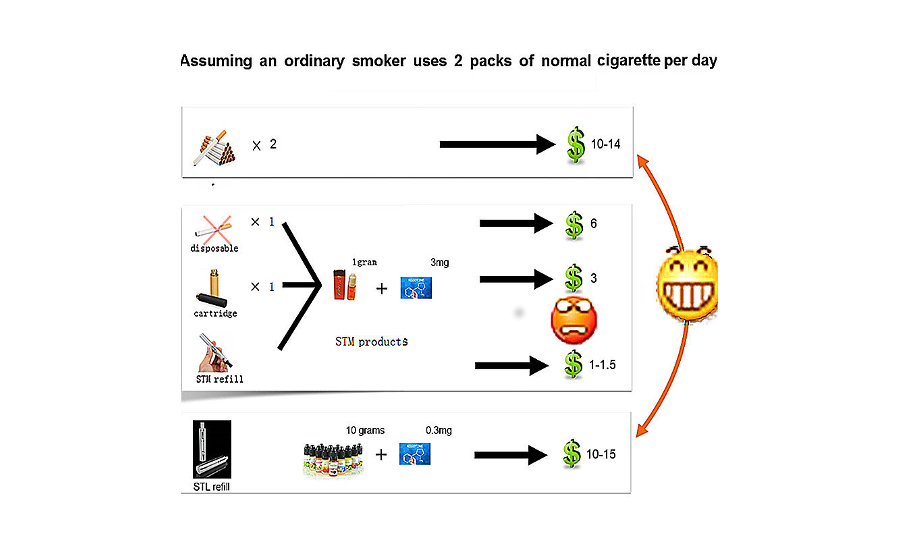 Chinese e-cigarette manufacturer Kimree is taking an unusual marketing approach in pitching a new product range directly at tobacco companies, saying it will help to compensate for revenue lost when consumers turn to vaping.
The company has released a range of sub-ohm e-cigs which it has dubbed "straight to lung" (STL) models.
Sub-ohm e-cigarettes have a lower electrical resistance than others in the coil, which results in a higher temperature and greater amounts of vapour.
This greater vapour production, in turn, means sub-ohm e-cigarettes use more e-liquid than other versions. And Kimree has chosen to focus on this high usage in marketing – rather than highlighting any benefits for the user experience.
"As people grow more health conscious, total annual global tobacco sales are gradually reducing – leaving tobacco giants facing an unprecedented crisis. A Wells Fargo Bank study predicted that global sales of tobacco will reduce by 2% to 5% each year from 2013 to 2023," said Kimree. "If the situation continues like this, tobacco companies will die out completely in a matter of decades."
To avoid this, tobacco companies should move to embrace STL (or sub-ohm) e-cigarette technology, Kimree said, because it offers them the best opportunity for matching current tobacco margins with an e-cig product.
Do the math
If a smoker currently spends $10-$14 on conventional cigarettes per day, they will be satisfied by roughly $4-$7.50 worth of standard e-cigarette hardware and e-liquid, Kimree estimates.
But the higher e-liquid consumption of the STL/sub-ohm devices – and the fact that they require lower nicotine strengths than less powerful e-cigs – would help to close the revenue gap for tobacco companies selling them to consumers who have reduced their intake of conventional cigarettes.
This positioning is significantly different from most other marketing by the Chinese manufacturers who produce the bulk of the world's e-cigarettes.
For example, Kimree recently offered Smartank, a new model sold through its subsidiary Kimsun; the pitch for this highlighted new features that would appeal to consumers. Resellers were told that the design came with temperature controls, pressure level detection, and a pneumatic control system all designed to give vapers greater control and a better experience.
Hard sell
Meanwhile, Kimree has also launched a new e-liquid with an extract of tongkat ali, a Malaysian shrub believed by some to naturally enhance male sexual function. Kimree has suggested that this e-liquid would work well with STL/sub-ohm technology.
"With help of the constant temperature provided by a STL e-cigarette, the pharmaceutical active ingredients of the tongkat ali-based e-liquid can quickly enter the body through the respiratory tract and lungs to help enhance testosterone production," said Kimree.
"This quick entry system is designed as a fast acting male enhancement, when compared with other pharmaceutical products that may take as long as 30 minutes to work."
Tongkat ali was denied novel food status in the EU – a legal classification which allows something previously not considered a food to be classed as such – and would require approval to be considered a herbal medicine, meaning it cannot currently be marketed in the EU.
However, under the U.S. Food and Drug Administration (FDA) system, prior approval is not needed before marketing and tongkat ali is already available as a supplement in American health food stores.
What This Means: Although the degree to which Kimree's product is any more "straight to lung" than any other e-cigarette remains shrouded in mystery, it is an interesting idea to address tobacco companies looking to replace lost or falling margins.
We shall see if companies take up the idea, but Kimree's figures do look a tad optimistic – particularly given the fact that financial factors are one motivation for many vapers to switch from tobacco to e-cigs in the first place.
– Freddie Dawson ECigIntelligence staff