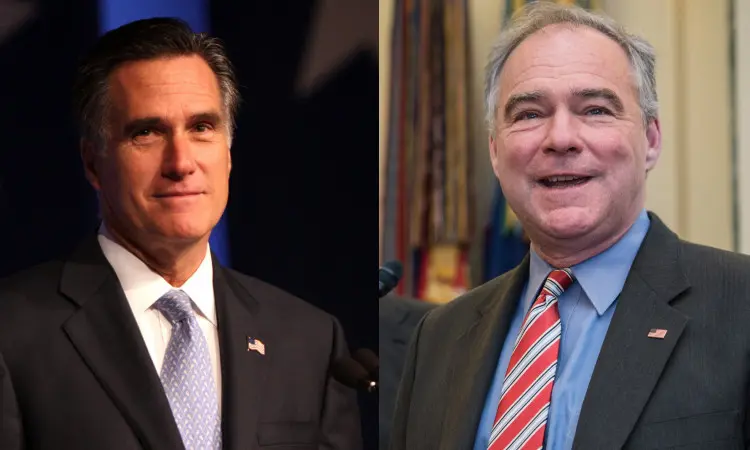 US senators have urged the Food and Drug Administration (FDA) to implement a timeline to decide on the pending Premarket Tobacco Product Applications (PMTAs) and to reveal how it will ensure that there are no non-compliant products on the market.
In a letter addressed to the FDA's acting commissioner Janet Woodcock, US senators Mitt Romney (Republican, pictured left) from Utah and Tim Kaine (Democrat, pictured right) from Virginia asked the federal agency to disclose its plans to guarantee that products not authorised for sale are not marketed unlawfully.
"What will you do to enforce the removal of new products on the market without the statutorily required premarket authorization?" it reads.
Senators Romney and Kaine – both members of the Senate Health, Education, Labour and Pensions (HELP) Committee – expressed their concerns over the FDA's delay in deciding whether companies "with the largest market shares" can keep selling their products.
They also highlighted that the federal agency "failed to provide clear guidance on menthol-flavoured electronic nicotine delivery systems, which make up an increasingly large share of e-cigarette sales".
The senators consider that the recent decision to issue product standards to ban menthol as a characterising flavour in cigarettes and cigars "is a step in the right direction", but they ask the federal agency to take "strong action" on menthol flavouring in vaping products to curb the youth vaping epidemic.
Recently, senator Romney reintroduced a bill in Congress that would force e-cigarette manufacturers to pay user fees to the FDA to fund the agency, with the aim of supporting public education campaigns on youth e-cigarette use and prevention.
Senator Kaine sponsored a bill approved by the Senate in December 2019, which raised the legal tobacco and vaping purchase age from 18 to 21.
What This Means: The FDA has until 8th October to answer the letter from senators Romney and Kaine.
A few days ago, seven public health and medical organisations also urged the FDA to "expedite decisions on Premarket Tobacco Product Applications (PMTAs) submitted for all non-tobacco flavored e-cigarette products". They also urged the agency to "promptly deny" those applications based on the accumulated scientific evidence of the adverse impact of those products on public health.
– Antonia di Lorenzo ECigIntelligence staff