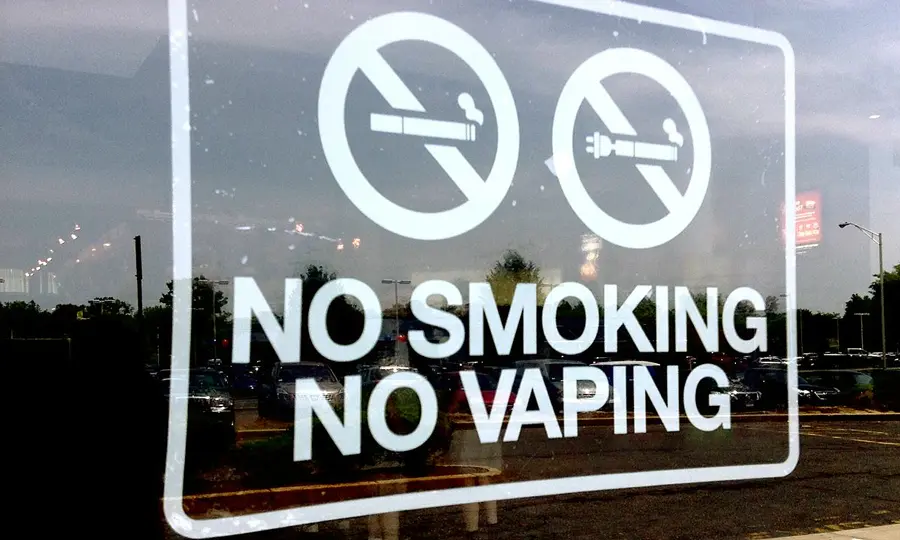 Will unrestricted indoor vaping, even where smoking is forbidden, encourage smokers to switch? No, according to the World Health Organization, which believes differential taxation of e-cigs and tobacco may be a more powerful policy tool.
In a paper published earlier this year, the WHO said governments should consider banning vaping indoors but use other strategies, such as high taxes on cigarettes, to encourage smokers to switch to vaping.
It added that further research should be carried out on the use of e-cigs – particularly on whether or not smoke-free outdoor areas should also be vape-free.
Current information seems to indicate that the greater dilution of second-hand aerosols outdoors might mean policies could differ there, the WHO said. However, governments should limit indoor use and align vaping policies with smoking wherever possible.
This is already done in many jurisdictions – including 25 countries, according to the WHO – and follows the recommendation of the 2016 WHO report to the parties of the  Framework Convention on Tobacco Control (FCTC).
Nicotine withdrawal
The latest WHO report said that while permitting vaping indoors could make it easier and more enticing for smokers to make the switch, this was a minor factor in the decision-making process and that others, such as health and cost, were generally cited as primary drivers.
The idea that allowing vaping indoors could minimise nicotine withdrawal for vapers – thus making switching more attractive – is also not important enough a reason to recommend the policy, the WHO said. It cited a survey report that only 12% of American vapers (124 out of 1034) said they found it difficult to refrain from vaping in places where they were not supposed to.
Instead the WHO argued that vaping indoors could re-normalise smoking and potentially lead to relapses, or initiation among never-smokers.
"Smoking or vaping might trigger them to relapse to smoking," the WHO said. "For example, an experimental study among young-adult tobacco smokers reported that exposure to a video showing vaping significantly increased their urge to smoke as well as their desire for tobacco cigarettes and e-cigarettes. Similarly, another experimental study found that exposure to the e-cigarette cue but not the tobacco cigarette cue also significantly increased desire to smoke an e-cigarette."
Strong odours
The WHO did add that one study stated: "Once these products are more common and the purpose of them is known, seeing people use them should normalise quitting behaviour."
Meanwhile, it said, differing policies on smoking and vaping could be confusing for vapers.
The United Nations organisation, which exerts significant public policy influence across the globe, also suggested that vapers themselves might want to have vape-free areas to constrain the amount they use e-cigs or stop it entirely, just as smoke-free areas are supported by many smokers as an aid to quitting.
Vaping, it said, can also be a nuisance with strong odours. "While such nuisance concerns do not appear to have been quantified in surveys, we note that the 2016 vaper-friendly Global Forum on Nicotine conference actually banned participants from vaping in certain indoor areas due to the nuisance that aerosol clouds caused," the WHO said.
What This Means: As often with this organisation, the WHO authors clearly had an idea where they wanted to go with their recommendation before they sat down to write it. Even the supposedly pro-indoor vaping argument section was largely a list of reasons why vaping should not be permitted.
This is not particularly surprising for an organisation known to be sceptical about vaping. But some of its arguments are fairly puzzling.
E-cig supporters have long dismissed the "renormalisation and gateway" theory of vaping and there are studies that strongly imply no significant impact of that kind exists. And it's hard to see that nuisance odour in itself has much to do with public health. Suggesting vapers would not be able to read signs to figure out whether e-cigs were permitted seems like a weak argument overall.
This all may stem from the WHO's stance on e-cigs as purely a cessation device and not a consumer lifestyle choice. It wants smokers to transition to vaping and then to nothing at all as quickly as possible and believes usage policies should reflect that.
Still, it's a step towards leniency from a major leader of international policy that initially wanted to ban vaping products entirely.
– Freddie Dawson ECigIntelligence staff
Photo: Mike Mozart