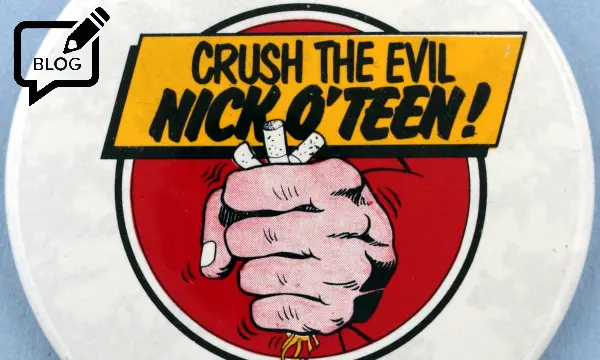 In demonising nicotine, have many of vaping's bitterest opponents across the globe got their sights trained on the wrong enemy?
We know nicotine is the primary addictive ingredient in cigarettes and has thereby for centuries been luring millions to their death. But we also know now that it is not otherwise terribly dangerous – not as dangerous as many of the other nefarious substances present in tobacco smoke – and indeed is the prime means by which innovations such as the e-cigarette can be used for their chief purpose, which is to wean smokers off their deadly habit.
Yet it is nicotine itself (or its anthropomorphic presentation Nick O'Teen) which remains widely and fiercely portrayed as the arch-villain.
Meanwhile, a growing number of companies are cottoning on to vaping technology as a means of delivering subtances other than nicotine. And to the fact that while an increasing proportion of countries are regulating – and in particular taxing – e-cigarettes both with and without nicotine (see ECigIntelligence's daily news alerts for frequent evidence of this trend), it's still as a means of delivering nicotine specifically that they mostly come under regulatory scrutiny.
It is in this context that a Stanford University paper, "Use patterns, flavors, brands, and ingredients of nonnicotine e-cigarettes among adolescents, young adults, and adults in the United States", makes interesting reading despite its cumbersome title.
Is inhaling them really the best way of taking your vitamins?
Surveying more than 6,000 US residents aged from 13 to 40, the researchers found more than a quarter (25.9%) had tried a non-nicotine e-cigarette, 16.7% had used one within the past 30 days, and one in eight (12.4%) had done so within the past week. This is not a small niche market.
And what exactly are these other, non-nicotine, ingredients? Top of the list come cannabis derivatives, the psychoactive THC (36.9% of users) and the non-psychoactive but apparently therapeutic CBD (33.7%). Other popular substances are the sleep-related hormone melatonin (27.5%), caffeine (26.9%), and essential oils (22.9%) – which are "essential" in the sense that they are the "essence" of a plant's fragrance, not that they are somehow essential to human life.
While users of THC, and perhaps caffeine, might have other motives, what primarily links these substances is an association with "wellness" – an association that intensifies when you add a range of vitamins and other nutritional supplements to the variety of products you can now vape. A range that includes, for example, vitamins C, E and B12 and "natural" supplements such as milk thistle and green tea – though just how natural it is to inhale any of these rather than eating or drinking them is open to question.
There may be various reasons why people would choose the inhalation method, from novelty to the belief that your chosen substance takes effect more quickly that way. Against this, however, is a lack of scientific evidence to show how substances may be absorbed through the lungs, and the knowledge that vitamin intake occurs almost entirely through the gut.
The real caveat emptor, though, should be that although the US Food and Drug Administration (FDA) cautions against products for which unproven health claims are made, there is little to no regulation of what goes into the products themselves, as long as it isn't nicotine. That association with "wellness" (whatever that really means) may be enough to sell your vape but not enough to trigger an FDA warning.
The grand irony
Meanwhile, a host of flavours that are explicitly banned from nicotine e-cigarettes are used freely in the non-nicotine kind – the Stanford report names sweet, dessert, candy, fruit, mint and menthol as the commonest types. And while it is commonplace for anti-vaping groups to vilify flavours for attracting young people, the more pressing danger may lie in their association with inflammation and cell dysfunction (admittedly in in vitro studies).
That report also points out that ingredients such as "propylene glycol, vegetable glycerin, aldehydes, volatile organic compounds, polycyclic aromatic hydrocarbons, metals, silicate particles, and other heavy metals", which are on the FDA's list of "harmful and potentially harmful" constituents in nicotine products, are equally present in non-nicotine vapes. In either case there's a lot we still don't know about long-term effects – that word "potentially" has a lot of weight to carry.
The long and the short of it is that all these "wellness" vapes may or may not be good for you. If anyone knows, they're not allowed to make specific claims about it anyway.
All of which adds up to the massive irony that the media's, regulators' and health campaigners' No.1 villain, the nicotine e-cigarette – being strictly regulated – may well be a lot healthier than the unregulated, nicotine-free "wellness" vape.
And, speaking personally, I'd rather go on drinking my coffee than breathing it.
– Aidan Semmens ECigIntelligence staff
Photo: Leo Reynolds