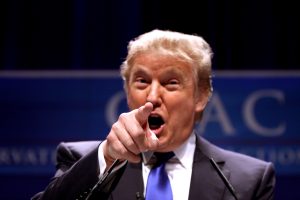 The U.S. vaping industry has reacted with cautious optimism to Donald Trump's surprise victory in the presidential election.
Hopes are high that the arrival of the new administration along with continued Republican control of Congress could pave the way to softening the FDA deeming regulations that came into effect this summer.
However, the industry also suffered yesterday at the ballot box when voters approved an e-cigarette tax proposition in California.
"Things are a bit more positive today than they have been for some time," said William Bartkowski, president of VapAria.
"The election of Mr. Trump in some respects represents a populist and anti-regulatory sentiment in the U.S. If the vapour community can consolidate this sentiment appropriately in concert with legislators and those in the public health community who support them, they can do a great deal to improve the prospects of the industry in the U.S.," said Bartkowski.
"At the national level, last night's election may turn out to be a positive for vaping. With Republicans retaining control of the House and Senate, our chances of modernising the predicate date [of the deeming regulations] have improved," a spokesperson for the American Vaping Association told ECigIntelligence.
The sector will also be heartened by the promise of continuing Republican control in Congress, where the party won the House of Representatives by a wide majority, although the vote for the Senate was much closer.
"Trump's victory and the fact that Republicans will have control of Congress bodes well for the U.S. vapour industry, as it increases likelihood that the existing law (Tobacco Control Act) could be modified to help vapour products (for example, by amending the grandfather date as the Cole/Bishop amendment proposes to do), and also the possibility that, at some point, a new law specific to vapour products could be enacted," said attorney Azim Chowdhury of Keller Heckman, who specialises in tobacco products.

Friends in high places?

"Yesterday was a likely game changer for the e-vapour industry," said Greg Troutman, another attorney specialising in e-cigarettes.
"A business-friendly president and a Republican Congress make it very likely that not only will Cole-Bishop become a reality, but major changes to the deeming rule may also occur.  The fact the e-vapour industry helped move the needle for senator Ron Johnson in Wisconsin and also likely for president-elect Trump in the state should definitely help our cause."
The American Vaping Association spokesperson agreed: "The big win of the night for vapers was U.S. senator Ron Johnson in Wisconsin. Senator Johnson was the first U.S. senator to come out vocally against the FDA's deeming regulation and the impact it would have on small businesses. Three months ago, no-one thought he had a chance, but he fought on. Vapers helped elect senator Johnson and I am hopeful he will for continue to fight for them."
The other votes
But there was bad news for the e-cig business and especially for vape stores in California, where voters passed Proposition 56, imposing a tax on vapour products as well as more than doubling tobacco taxes.
Another ballot measure which would have introduced an e-cig tax in North Dakota failed, as did proposals for higher tobacco taxes in Colorado and Missouri, neither of which covered e-cigarettes.
In other state-specific polls, California, Massachusetts and Nevada all approved the legalisation of recreational marijuana. The Californian vote is being seen as a watershed moment for the nascent industry, although voters in Arizona rejected a similar measure.
Three further states approved medical marijuana in yesterday's ballots.
Corridors of power
The position of the forthcoming Trump administration on tobacco products and e-cigarettes is difficult to guess at, although domination of Congress by the Republicans – generally seen as a pro-business, anti-intervention party – is likely to mean that strongly restrictive legislation will not have an easy ride.
Trump himself is famously abstinent from alcohol, tobacco and drugs. His running mate Mike Pence – who will become vice-president when the new administration takes over in January – approved an unpopular e-cig law in Indiana, but also wrote in 1998 that "smoking doesn't kill", and asked "what is more harmful to the nation, second hand smoke or back handed big government disguised in do gooder healthcare rhetoric[?]".
"Trump is a bit of a loose cannon, so to speak, and his position on vaping products is unclear," said Chowdhury.
Day-to-day federal regulation of e-cigs will remain the responsibility of the Food and Drug Administration (FDA), under the supervision of the secretary of health and human services (HHS), in effect Trump's health minister. The person he appoints to that position will, through their sway over the agency, perhaps be the federal political figure with the most direct influence on the vape sector.
Trump has not announced cabinet appointments yet, but one name attracting particular attention for the HHS job is that of Ben Carson, a neurosurgeon and failed contender for the Republican nomination which Trump won earlier this year.
Carson's views on many scientific issues are eccentric – among the concepts he has publicly doubted are carbon dating and human contribution to climate change – but he does not appear opposed to innovation: for example, he has backed legalising medical marijuana, although not the recreational product.
What This Means: If Trump's administration were to take an interest in the issue of vaping (not impossible, because this is certainly unlikely to be a predictable White House) it might well not be negative.
However, as with the other great political upset of recent months – the UK referendum in favour of Brexit – it seems unlikely that a Trump presidency will have direct, specific impact on the e-cig sector; far more important will be the macro effects on the U.S. economy and the broader political climate.
In the meantime, the Republicans' success in holding both houses of Congress should provide solid support for the e-cigarette industry in Washington.
– Freddie Dawson, David Palacios and Barnaby Page ECigIntelligence staff
Photo: Gage Skidmore
ECigIntelligence does not provide legal, strategic or investment advice. Tamarind Media Limited, the publisher of ECigIntelligence, does not accept any liability or responsibility for information or views published.
Please see this page for a detailed description of our methodology. Please Contact us for a detailed description of our methodology.