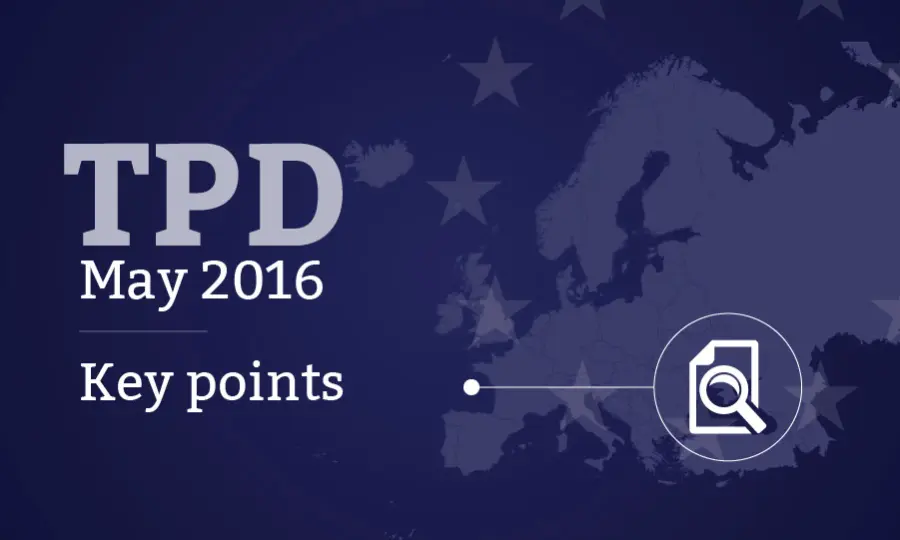 Article 20 of the European Union's Tobacco Products Directive (the TPD), which comes into practical effect on Friday 20th May, is the first pan-European legislation specifically for e-cigarettes.
It does not have direct force on companies or individuals. Instead, each EU member state is obliged to implement ("transpose") the TPD into its own legislation. Firms doing business within that individual country then need to comply with its law.
The deadline for transposition is Friday 20th May, although many countries look almost certain to miss it. But even they can be expected to have TPD-based legislation in place before long.
There are numerous variations in the ways that countries have transposed the TPD, with many making their own additions.
However, the main measures of the TPD affecting e-cigarettes and other electronic nicotine delivery systems (ENDS) are:
E-liquid nicotine concentration is limited to 20 mg/ml (2%).
Tanks/clearomisers/pre-filled cartridges cannot contain more than 2 ml of liquid.
E-liquid bottles cannot contain more than 10 ml.
Products (including devices and bottles) must be child-proof and tamper-proof.
All products must be sold with information leaflets and health warnings.
Advertising in many media is prohibited. TV, radio, newspaper, magazine and Internet display advertising are banned everywhere. Some other media are permitted in some territories.
EU member states can ban distance sales (in other words, online sales) if they wish but are not obliged to. About a dozen are doing so.
Existing products already on the market as of 20th May must be notified to the relevant authority in each country within six months.
New products after that date must be pre-notified six months before they can be sold.
Each country will name its own body (or bodies) to enforce TPD compliance and deal with the paperwork.
Also note that:
The TPD does not apply to e-cigarettes licensed as medical products.
Unlike the deeming regulations in the United States, the TPD does not require that new products be approved before they go on sale – merely that they be notified to the authorities.
The TPD does not ban flavoured e-liquid.
Nor does it mandate minimum ages for the purchase of e-cigarettes, although most European countries are adopting minimum ages anyway.
Nor does it impose any tax on e-cigarettes.
There are many TPD provisions relating to combustible tobacco products which are not directly relevant to e-cigarettes – for example, a ban on most flavours, and a minimum cigarette pack size of 20 sticks.
The TPD is technically "the revised TPD". It updates an earlier Tobacco Products Directive adopted by the EU in 2001, which of course did not touch on e-cigarettes.
For more information, including detailed analyses of requirements in each country, please see our continuing coverage and consult ECigIntelligence's archive of European country reports, regulatory trackers, and news.
– ECigIntelligence staff
Graphic: Carl Gamble