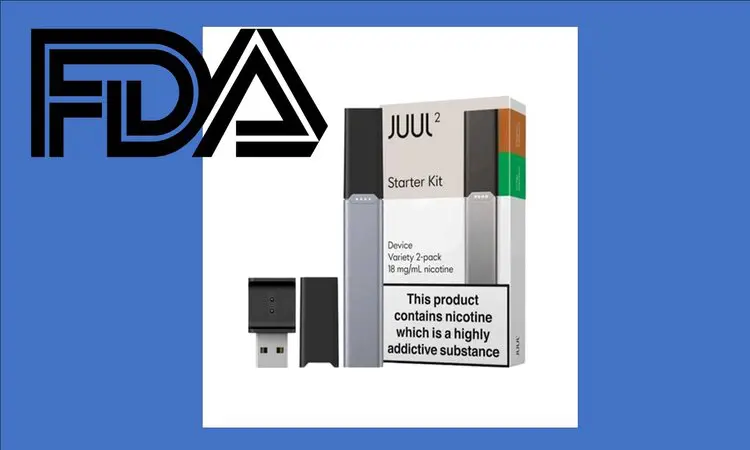 Success for Juul with its premarket tobacco product application (PMTA) for its Juul2 next-generation vapour platform could lead to a complete reset of minimum youth prevention standards in the US, requiring companies to resubmit their own PMTAs, experts warn.
Juul submitted its PMTA to the US Food and Drug Administration (FDA) at the end of July. It includes new smartphone age-verification features to prevent youth access and use.
While this will address issues the FDA had with the previous-generation Juul device, it may also lead to the FDA completely reassessing the way vaping products address youth use and possibly even to the agency's recalling previously granted authorisations, according to Alex Clark, CEO at the nonprofit Consumer Advocates for Smoke-free Alternatives Association (CASAA).
"If granted, it's unclear what a market authorisation for such a sophisticated device will mean for other applications in the FDA pipeline or marketing granted orders for new smoke-free products already on the market," Clark said. "If Juul2 establishes a floor for youth prevention, other products may be required to follow suit. Tobacco product authorisations are not chiselled in stone and can be revoked if the FDA sees fit."
Clark told ECigIntelligence that revoking tobacco product authorisations would be expensive for manufacturers, and consumers would take the most significant hit if they could no longer access the smoke-free products.
He added that while this device has new features that people switching away from smoking will appreciate, the high-tech solutions to the FDA's political problems seem a bit much.
"For example," said Clark, "requiring age verification via smartphone app means that many disadvantaged people and other priority communities (where smoking prevalence is disproportionately higher than the general population) may not find the new Juul very accessible."
Could all the tech be a barrier to using alternatives to smoking?
Tobacco harm reduction expert Clive Bates welcomed the new application for Juul's latest device. "Juul needs to keep fighting for US market access for its original device, but it will be rebuilding its future on its new Juul2 technology, and hopefully with a more reasonable and pragmatic response to its new application from the FDA," he told ECigIntelligence.
However, Bates raised concerns about whether the need for Bluetooth connectivity, smartphone apps, and identity-verification technology could start forming a barrier to the uptake of safer products.
"I'd be especially concerned about older adults and people with various forms of disadvantage. After all, smoking a pack of cigarettes is no harder than removing the cellophane and flipping the lid open.
"It may be an advantage to Juul in the short to medium term," Bates said, "but a disadvantage to the category as a whole and the law-abiding manufacturers", who would once again suffer from "illicit trade in products that did not use these technologies".
The PMTA includes new evidence from the UK on how the device can aid smoking cessation, and data and specifications around preventing youth usage of the device, which will use only new tobacco-flavoured pods at 18 mg/ml nicotine concentration.
The 18 mg/ml (1.8%) concentration is also notable because, while in line with European specifications – where the second-generation device has already been on sale – it is lower than the typical strength found on the US market and significantly below the previous Juul pods on the market, which had strengths of 59 mg/ml (5.9%) and 35 mg/ml (3.5%).
Juul is seeking to raise about $1bn in a fundraising effort, according to Bloomberg citing people familiar with the matter. In July, the company said that it was in the early stages of exploring options, including financing alternatives, to protect its business and help refinance an existing loan as it dealt with lawsuits related to the marketing of its e-cigarettes.
– Antonia Di Lorenzo ECigIntelligence staff