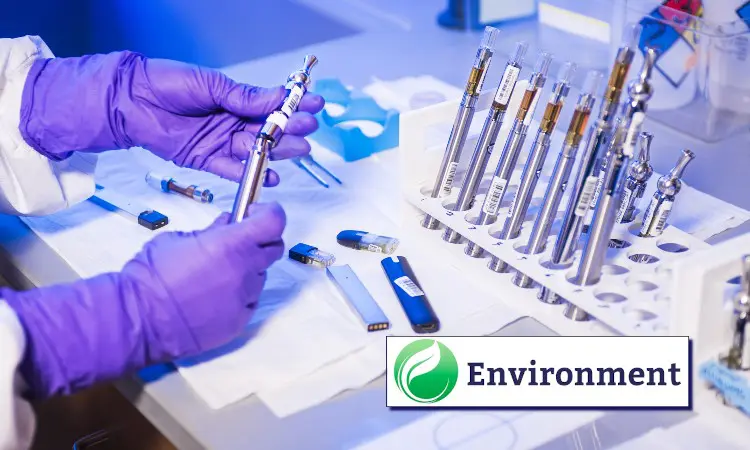 With disposable e-cigarettes increasingly the target of negative attention over their environmental impact as well as youth usage, interest is growing in other, less wasteful, approaches to product design.
Could this mean more than just putting recyclable components into an already familiar format? Could the future of vape technology lie in something more radical?
Broughton Group is a UK-based consultancy and scientific organisation working on the development of vapes. In the current market, this includes alternatives to disposables like pod systems and modern oral nicotine pouches, alongside next-generation products like non-heated vape technology. The consistent performance that can be achieved using non-heated technologies could make them ideal candidates for approval as medicinal products in the UK.
Pete Lomas, managing consultant of product realisation for Broughton, told ECigIntelligence that a growing trend is the development of non-heated technologies for turning e-liquid into vapour, removing the need for conventional heated coil technology.
This non-heated vape technology is called piezoelectric ultrasonic atomisation. Lomas explains: "This is where a piezoelectric ring is coupled to a metallic circular thin plate. The piezoelectric ring vibrates at a very high frequency when voltage is applied to it, which in turn vibrates the metal plate.
"If the liquid is present on the metal plate (with a vape, it would be the e-liquid) the vibrations atomise the liquid into fine particles. A variant of this technology uses a metal plate with lots of tiny holes in it (a mesh), whereby the vibrations draw liquid through the holes to form the fine particles."
What's cool about non-heated technologies
Lomas said there are a lot of advantages to a vapour product that doesn't heat e-liquid. For example, it could result in a reduced risk of both harmful emissions as well as harm or irritation to the user, as the temperature of the vapour is lower. What's more, he said, if new atomisation technologies mean having control over vapour particle sizes, the result could be a more efficient delivery of nicotine.
Some non-heated products have already been commercialised on a small scale, according to Lomas, and many more are expected to enter the market in the coming years.
Among the challenges are matching the properties of e-liquid with the requirements of the new technology – non-heated vapes require e-liquids with lower viscosity than those currently available, for the atomisation to work effectively; making the system commercially viable; and making it small enough to fit within a vaping product.
The increased costs that these issues involve mean that vape products based on non-heated technology will likely be available as pharmaceutical products as well as high-end consumer products, rather than occupying the cheaper end of the market, Broughton believes.
Vaping your smartphone?
Piezoelectric ultrasonic atomisation is not the only intriguing technology development underway.
For example, global vape company Smoore International's ceramic coil technology seems "far more efficient than existing coils", a spokesperson from the UK Vaping Industry Association (UKVIA) told ECigIntelligence.
And although not all innovation is driven by environmental concerns, some certainly is.
Polish disposable brand Aroma King, for example, recently launched the first disposable e-cigarette without a battery. Its Iuni device will use smartphones as external power sources instead.
"All you must do is plug the Iuni into the USB-C port, and you are ready to go," the company said. "This allows us to fit in with the eco-trend without sacrificing the quality and exceptional taste known from other Aroma King devices."
There is little information about this new device so far, but it's a sign of how concerns over waste – in this case, batteries – are sending manufacturers in new directions.
— Antonia Di Lorenzo ECigIntelligence staff
Photo: CDC