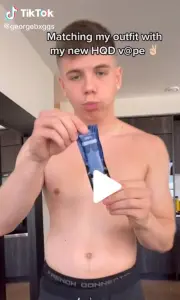 The UK Advertising Standards Authority (ASA) has confirmed that commercially associated vaping posts should not appear on the social media site TikTok.
This includes advertorial posts as well as informational posts, the ASA said. The regulator added that promotional content for vaping would only be permitted in newspapers, magazines and periodicals, or in online media and some other forms of electronic media – excluding most social media – under a ban on paid-for ads in "information society services".
Factual information could be made on marketer websites and – in certain circumstances – other non-paid-for online spaces under the marketer's control, such as their own social media accounts.
However, TikTok posts can be distributed to users beyond those following an account, which enables content to be pushed to consumers who have not opted in to receive information. And that violates the requirement that factual information on vaping should only be available to those actively seeking it out.
This means that no commercially associated vaping content should appear on TikTok, the ASA said.  And the two paid-for ads the ASA specifically looked at definitely fall foul of the authority's guidelines.
Internal review procedures
The ASA investigated two ads – one for an Elf Bar rechargeable disposable pod e-cigarette that was challenged by Imperial Brands, and another for an HQD Wave disposable e-cigarette that was challenged by the ASA itself.
The Elf Bar ad was made by a third-party content creator. Green Fun Alliance – trading as Elf Bar – said it had contacted the creator and TikTok to remove the post once it discovered the post did not comply with the brand's content guidelines.
The company added that it would improve internal reviewing and monitoring mechanisms to ensure all online content complied with regulatory requirements. It said that following the complaint it had stopped all TikTok content and communications marketing in the UK.
TikTok said the video did not appear in its paid-for ad space and that because it violated the platform's branded content policy, it would have been removed from the platform anyway.
The HQD Wave TikTok ad appeared in a post from influencer George Baggs, who was only 19 at the time – a clear violation of guidelines about the ages of models. Baggs's post (pictured) showed him getting dressed and matching his outfit to his vaping device.
Promotional contract
HQD Tech said it had signed a promotional contract with Baggs to promote vaping products but that this included a clause requiring conformity with a platform's policies on paid product endorsements. Beyond that, the company said, the content was Baggs's responsibility.
The contract stipulated that content should not be designed to get non-vapers to try the product and HQD said that, in their opinion, when taken in context the post was unlikely to do that. The post did not mention the product type, price, instructions for use or flavours, and there were no links to purchase products or to information about where products could be purchased.
Nonetheless, HQD said it had removed all content posted by Baggs for the duration of the investigation and had taken "additional steps to ensure compliance with contracts and follower demographics to ensure younger audiences were not being targeted through the content".
Spokespeople for Baggs told the ASA he would not promote any vape campaigns on his social media channels from now on.
TikTok again said the content did not appear in its paid-for ad space nor was it disclosed as branded content, so it was in breach and would have been removed for that reason.
– Freddie Dawson ECigIntelligence staff